Patient Highlight: Shawn Redmond
When Shawn Redmond came to Maughan Prosthetic & Orthotic in the fall of 2018, it was the beginning of a new chapter in his life.
Shawn had battled cancer, on and off, since 1995— first, testicular cancer; then, tumors around the neck. Just a few years later, an aggressive sarcoma was found in his upper thigh.
The first two scares were treated with radiation. The third time, however, Shawn's doctors concluded that the best way to limit the cancer to his leg was to amputate it. They removed his leg and parts of his hip. The amputation stopped the cancer from spreading; but it presented a new challenge—mobility.
Shawn's work at the LOTT Clean Water Alliance requires mobility. He needed a solution that would allow him to move freely, lessening any mobility limitations.
Three months post-surgery, Shawn came to MPO looking for a solution.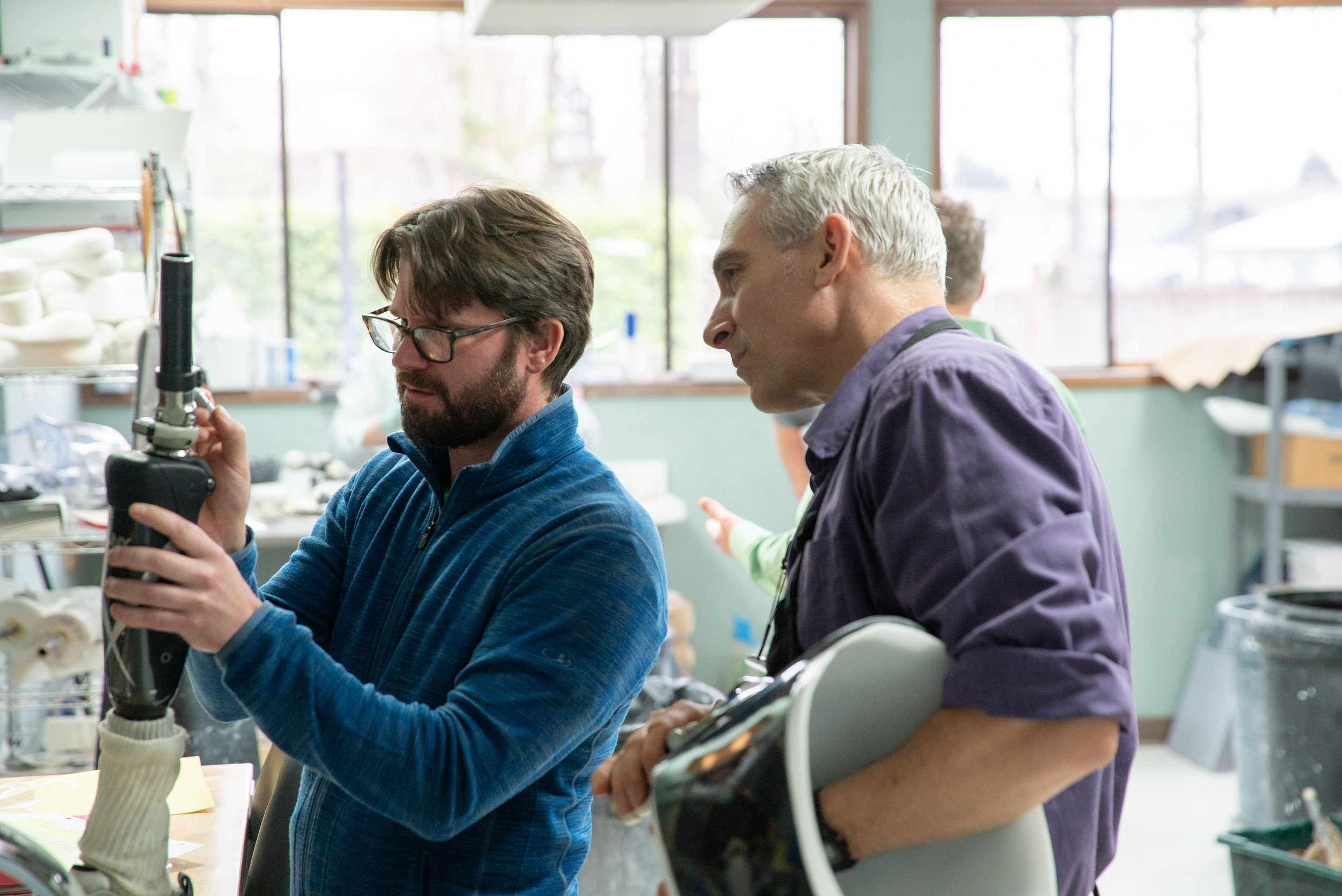 MATT WORKING ON SHAWN'S PROSTHETIC LEG
Amputations of Shawn's nature are rare, and unfortunately, there isn't much precedent for prosthetics of this nature that are both entirely functional and practical.
Nonetheless, Justin created a plaster mold for Shawn. From this mold, they created a "saddle" system that would attach a prosthetic to his lower abdomen-hip area. The saddle system provided Shawn the opportunity to walk with the assistance of forearm crutches. Certainly a step in the right direction.
However, still only a few months post-surgery, the area around Shawn's abdomen and hip was still changing, making his system uncomfortable.
This offered an opportunity to create a new option that was both more comfortable and functional.
Shawn's newest prosthetic uses the same style and idea as his previous "saddle" system, but offers increased flexibility and a more tailored fit.
Perhaps the most important improvements come from the perspective of Matt, CPO and MPO's physical therapist. Matt brings the insight of both physical therapist and prosthetist to the project, allowing him to coordinate the anatomical function with the technological function of the device.
Typically, an office might find that sharing too many different ideas and perspectives on a plan makes it difficult to actually move forward.
However, at MPO, with our patient first mentality, we're truly able to combine our ideas to so that they can work best for our patients. What we were able to create for Shawn is just one indicator of that teamwork
Shawn's journey is far from over and our work with him is still ongoing. We'll continue to develop his brace and do our best to see him reach his mobility potential.